EMBOSSED BUSINESS CARDS
This is where the 500-year-old craft known as letterpress printing has re-entered the scene with stunning results. Letterpress is a relief printing method that imparts a unique handmade quality by impressing a reversed raised surface into the paper, creating an embossed effect as it prints. Make your cards look amazing with letterpress debossing business cards and invitations card.
Embossing starting at $75, no setup fees! EVER. Business Cards With Embossing Options.
What is embossing?
Embossing produces a raised effect on selected areas. The process requires the use of two dies: one that is raised and one that is recessed. The dies fit into each other so that when the paper is pressed between them, the raised die forces the paper into the recessed die and creates the embossed image. An embossed pattern is raised against the background, while a debossed pattern is recessed into the surface of the paper.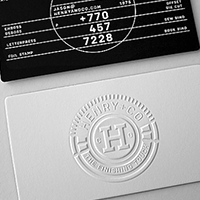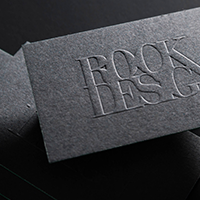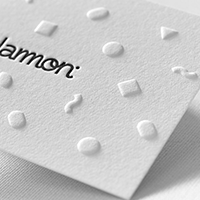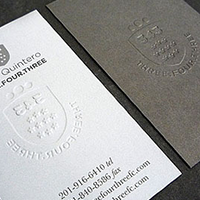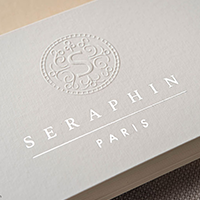 Important - Please read

Embossing involves a separate stage in the production process, after any laminating and trimming. Because it requires a separate press run, a tolerance of +/- 1/64 inch is standard to register an emboss to a print graphic. Although we make all efforts to perfectly align the embossing to the print, a shift of up to 1/64" may occur. Most of the time the shifting will only show on a few cards. Please keep that in mind when creating the artwork. It is not recommended to emboss small text or fine lines.
To avoid any possible misalignments, you may choose a blind embossing. Blind means the embossed area is made without using ink on the embossed image. The embossing process alone creates the text or design on the paper.
As opposed to debossing, embossing will show through the back side of the card.
We do not charge set-up fees or platemaking fees. Embossing dies are a one-time use only, the die is then recycled after use.

Embossing surface calculation

The embossing cost includes a maximum surface of 3 square inch (For example, 3 sq. in. can be 2"X1.5" or 3"X1").
Oversize embossing requires special attention, it's more time consuming and it requires a larger die.
Therefore, an extra cost will apply for a surface larger than 3 square inch.